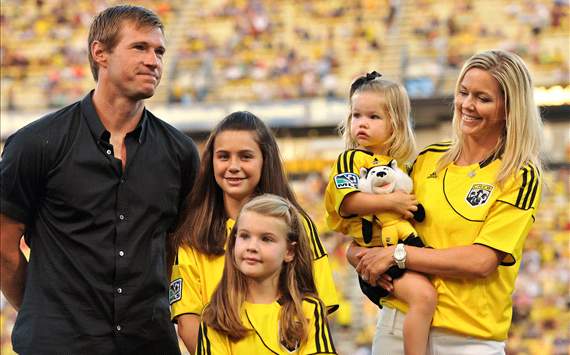 EXCLUSIVE
By Shane Evans
Former Fulham striker Brian McBride has insisted current want-away Cottagers star Clint Dempsey would be a success at Liverpool, were he to move to Anfield.
The 29-year-old has attempted to force through a move already this summer by not featuring on a pre-season tour with the club and has now refused to play for Martin Jol's team until ge is transferred.
The dutch manager has insisted he would welcome Dempsey back into his squad readily, and that no bids have been made but the former Fulham striker is sure his compatriot would shine on Merseyside.
"If youre asking me if I think Clint can succeed [at Liverpool]? For sure," McBride told
Goal.com
. "Hes got not only the talent and the ability but hes a very determined individual. He adapts extremely well to so many different situations.
"Take Fulham for example. Hes had four or five different coaches. H es always put his head down and showed them what hes made of.
"I think thats a sign of not only a very good player but one that is able to adapt and make the transition regardless of who the manager is.
McBride is currently playing with Wembley FC who, in partnership with American beer company Budweiser have been competing in this season's FA Cup with several former stars including David Seaman, Ray Parlour and Graeme Le Saux.
The non-league outfit beat Langford 3-2 in the extra preliminary round clash recently and the former USA international is delighted to be part of the project.
"My mindset going through this is that Ive been trying to get involved with grassroots soccer and Budweiser helped make the connection.
"I get a chance to do some coaching and some mentoring at a lower league level and really get to see the passion that goes into the game itself. These guys go through the same amount of training but sti ll have jobs and have to work through all those different aspects."