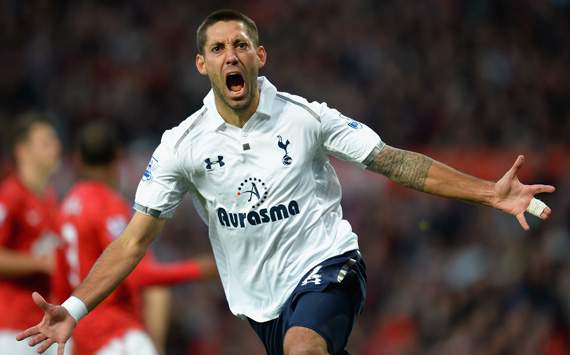 USA international Clint Dempsey is hoping Tottenham's recent run of form can be turned around, as they take on struggling Southampton on Sunday in what has become a must-win game for both teams.
The north London club suffered a 4-2 home defeat by Chelsea in their last Premier League outing, and followed that with a disappointing 1-1 Europa League draw in Slovenia against Maribor in midweek.
But having already won 3-1 against Manchester United at Old Trafford this season, Andres Villas-Boas' men have shown they are capable of taking on and beating the best, and Dempsey is hoping for a swift response from the team at St. Mary's.
"Its always difficult on the road in the Premier League and it will be on Sunday because Southampton are clearly a good team that have shown that they can score goals," former Fulham star Dempsey told The Daily Mail.
"After playing on a Thursday night on the other side of Europe you just have to make s ure your body is right and that you are taking care of yourself in the way you need to.
"All you can control is how well you rest, rehab, take ice baths and train. You must stay sharp and be able to give your best effort. Its a busy schedule but every team has to deal with it. Well just have to keep plugging away."
Spurs were widely expected to progress from their Europa League group when the draw was made, and Dempsey believes they can still achieve that despite an unconvincing performance against Maribor.
"At least we ground out a result. We showed character to get back in the game and put ourselves in a position where we are still right there in the group. The group remains very tight and there is everything to play for. Were taking every competition seriously, including Europe. We want to do well in everything."