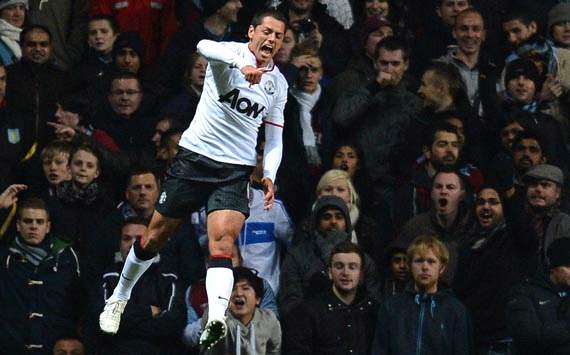 Manchester United striker Javier Hernandez has played down his role in Saturday's 3-2 win over Aston Villa, despite netting twice as a second-half substitute.
An Andreas Weimann double gave the Villans a 2-0 lead but the Mexican striker, who came on in place of Ashley Young at half-time, inspired a comeback win.
He struck just eight minutes after the Austrian's second before forcing the ball in off Ron Vlaar and then completing the turnaround with a headed finish three minutes from time.
But the forward has insisted he never expects to come on and make such a significant impact.
"To be honest, in my mind I never think that Im doing it to change the game or something like that," he told
ESPN
.
The only thing in my mind is to do my best, to do the things the gaffer told me to do and help all my team-mates with the effort to comeback because we were down 2-0 and thankfully we won.
The 24-year-old also hopes to be awarded his side's second goal and subsequently a hat-trick, despite the heavy deflection off Vlaar.
Of course [I will claim it], the Mexican said. "I think that I hit the target and then the defender touched the ball, but I dont know thats the decision of the referees.
Hernandez went on to express delight with his third goal in particular, given it sealed the three points for the visitors.
Sure, its really special. A wonderful cross from Robin van Persie, and thankfully I can get away from my defender and I head the ball and thankfully it goes in," he added.
The most important thing is the three points, it doesnt matter who scored the goals, whos the man of the match, the most important thing is that Manchester United are top of the league and we came back from 2-0 down and its a good result.