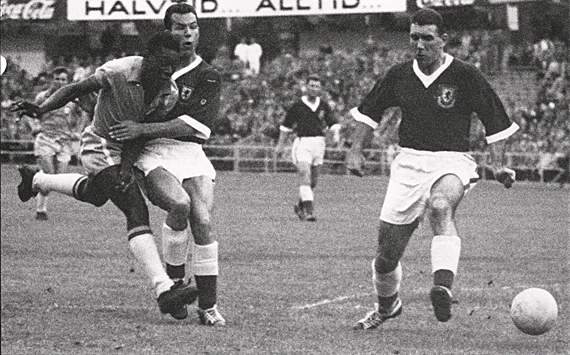 Lionel Messi and Cristiano Ronaldo are widely considered two of the best players currently plying their trade on the global stage, but would they fit into your greatest XI of all time?
In goal, some might root for the only shot-stopper to win European Player of the Year, Lev Yashin, while many might pick a more modern alternative such as Peter Schmeichel, Oliver Kahn or Gianluigi Buffon.
Defenders are often overlooked when it comes to choosing the greatest players in history, but Franco Baresi, Franz Beckenbauer, Paolo Maldini and Roberto Carlos are all household names who - at their peak - would be the star of many a team.
The likes of Zinedine Zidane, Johan Cruyff and Michel Platini have helped ensure that Europe has a rich history of midfielders, though there are names from across the globe worthy of a place in any best-of-all-time midfield.
And in attack there is an embarrassment of riches when it comes to deciding who to put in one 's team. Eusebio, Diego Maradona, Pele, Ronaldo (the Brazilian striker, not his Portuguese namesake), Gerd Muller and so many more leave even the most decisive football fanatic scratching their head as they try to decide who to pick.
Should an illustrious, silverware-filled career boost your chances of getting into the team? Or should those with trophy cabinets bursting at the seams not gain an advantage, and the choice be purely based on skill?
And what formation would you opt to deploy - a balanced 4-4-2, a fluid 4-3-3 or a 3-4-3 so that you can pile in as many attacking players as possible?
As a fun festive activity, Goal.com asked readers what should the greatest XI of all time is on Twitter, and we had well over a thousand responses!
Goal.com editor Carlo Garganese started the debate by tweeting his ideal 11, which featured players who would prove to crop up on a regular basis such as Maradona and Maldini, and shout outs for less frequent options such as ex-Selecao midfielder Roberto Rivelino. His XI in full: Buffon; Djalma Santos, Baresi, Maldini, Zanetti; Matthaus, Xavi, Rivelino; Platini; Maradona, Eusebio.
Featuring a team consisting of only those he has seen play consistently, The Bandwagoner has picked a meaty mix of stars who have plied their trade at either Real Madrid, Barcelona or AC Milan. His XI in full: Casillas; Cafu, Cannavaro, Hierro, Maldini; Makelele, Zidane, Iniesta; Messi, Raul, Cristiano.
Skipper of the Uruguay squad which won the 1950 World Cup, Obdulio Varela was a very uncommon (but canny) choice by Goal.com's South American expert Rupert Fryer. His XI in full: Zoff; Cafu, Baresi, Beckenbauer, Maldini; Varela, Matthaus; Messi, Cruyff, Maradona; Ronaldo.
A tweeter by the name of 'WORST' picked a slightly different (but still packed with superb stars) XI to many. His side is crammed full of those who impressed in Serie A over the last 20 years, and Roberto Baggio, Edgar Davids and Andrea Barzagli got rare nominations to be included. His XI in full: Buffon; Zanetti, Thuram, Barzagli, Maldini; Pirlo, Nedved, Davids, Zidane; Baggio, Ibrahimovic.
Goal.com's social media guru Joe Wright was one of the few to plump for Redondo in midfield, whil e Ronaldo (de Lima, not Cristiano) makes his second appearance on this list! His XI in full: Schmeichel; Cafu, Thuram, Maldini, Zanetti; Rivaldo, Redondo, Zidane; Ronaldinho, Messi, Ronaldo.
Ronaldinho was a name which sneaked into quite a few line-ups, while Deco and Alessandro Nesta creeped into a surprising amount of suggested sides. However, The Aficionado was surely the only person to tweet Steve McManaman in his selection! His XI in full: Vi tor Baia; Cafu, Nesta, Maldini, Roberto Carlos; Vieira, Deco, Ronaldinho; McManaman, Ronaldo, Nedved.
Goal.com's Dutch expert Stefan Coerts opted to put Manchester United and England legend Bobby Charlton in midfield, while a left-field pick is former Netherlands centre mid Willem van Hanegem. His XI in full: Yashin; Thuram, Beckenbauer, Maldini, Facchetti; Charlton, Xavi, Van Hanegem; Maradona; Cruyff, Pele.
Chris James thought he might have been a bit late with his submission, but his solid side - which features a rare nod for ex-Three Lions goalkeeper Gordon Banks and two-time Brazilian World Cup winner Garrincha - has earned his line-up a mention. His XI in full: Banks; Cafu, Beckenbauer, Baresi, Maldini, Mattaius, Zidane, Maradona; Pele, Messi, Garrincha.
You can still get involved by leaving your best ever XI in the comment section below, or you can share your ideal starti ng 11 by tweeting to
@goal_intl
with the hashtag greatestXI.