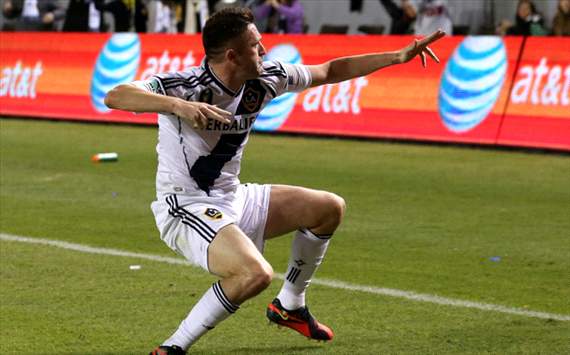 Robbie Keane did his best to
dispel
any notion that he is looking to leave LA Galaxy anytime soon ahead of Saturday's MLS Cup.
The Republic of Ireland international has been a major hit during his time in Los Angeles, so much so that his future in MLS has been called into question a number of times.
But, despite moves back to Europe being mooted, the ex-Tottenham and Liverpool forward plans to stay for the foreseeable future.
"I'm really enjoying my time here, and as long as I keep enjoying myself and as long as I keep letting my football do the talking I'll be very happy to stay," Keane told reporters at a press conference on Friday. "I look forward to a number of years here.
"
The Irish striker has not always spoken so definitively about his MLS future. Following a successful loan spell with Aston Villa at the start of 2012, Keane had hinted at a move back to England.
In 32 regular season games with the team this season, the striker has scored 18 goals and added 10 assists.
In five play-off games this year he has scored five goals. He was named to the 2012 MLS Best XI earlier this week, and will take place in his second consecutive MLS Cup on Saturday.
"I'm very happy and very content here," Keane insisted. "When you're playing in a team like this and getting to championship finals every year, for me this is the second year in a row, so that certainly does help."
With the January transfer window coming up for European clubs - and with Premier League sides such as Norwich, Everton and QPR reportedly interested - Keane says he has not yet decided on a if he will repeat last season's short-term return to England at the start of 2013.
"Regarding going back, it isn't something I've even thought about to be honest with you," the Irishman added.
"My main focus now is tomorrow's game and let's see how I feel, but for now my first prerogative is the LA Galaxy and that will always be the case."