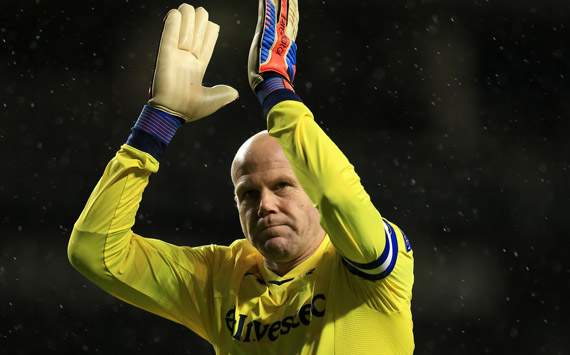 Brad Friedel has rejected reports linking him with a return to Blackburn Rovers, insisting that he is happy at Tottenham, despite losing his Premier League starting position to summer signing Hugo Lloris.

The France international joined Andre Villas-Boas' side on deadline day, and after months of criticism from France manager Didier Deschamps, Lloris finally edged Friedel as the manager's number one choice.

But despite his status as 'second-choice', Friedel has insisted that he is focused on Tottenham, where he enjoys competing for the starting position with Lloris.

Friedel told reporters: "Im contracted to Tottenham and Im concentrating on Tottenham. Whatever role they throw at me Ill do it to the best of my capabilities.
"Theres no rivalry with Hugo. At every club, for 21 seasons, theres competition for places. As I said before when I signed the two-year contract I figured I would play last year, this year was an unk nown.
"The club have been on the look-out for a long-term goalkeeper for a couple of years. We also have two other outstanding goalkeepers at the club in Heurelho Gomes and Carlo Cudicini.
"So competition for places? Yes. But the club is going to be around a lot longer than any of us. They want to be in the Champions League and they want to try to win trophies so they continuously have to buy good players in every position.
"Do I thrive on competition? Absolutely. Or else I wouldnt be playing football, and definitely not at the age of 41."
Asked if he will leave White Hart Lane in January, Friedel responded: "Thats all hypothetical. Im at Tottenham and Im very happy here."
Friedel joined the club on a free transfer in 2011, and continued to build up his impressive statistic of consecutive Premier League games under Harry Redknapp.
However, his run of 310 games came to an end when Lloris started against Aston Vill a, meaning the 41-year-old missed his first Premier League game in over eight years.