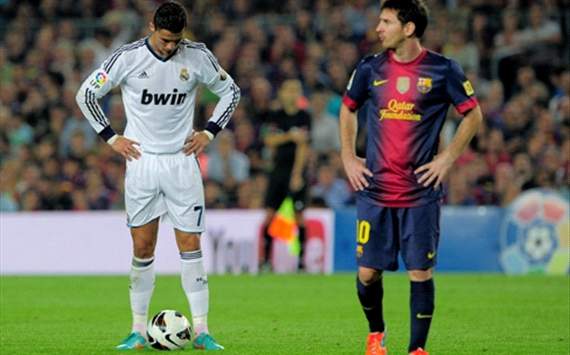 This year has seen plenty of individuals shine in the footballing sphere and, at the very end of 2012, now is the time to sing their praises by looking at who would make it into your best combined XI.
In Spain, Lionel Messi has broken record after record; Cristiano Ronaldo propelled Real Madrid to a Liga title once more; and Radamel Falcao's value has soared as he continues to deliver goals at Atletico Madrid.
In England, Robin van Persie has been imperious in front of goal all year; Juan Mata and Ramires were crucial to Chelsea winning the Champions League; while Vincent Kompany skippered Manchester City to their debut Premier League title.
In Italy, it will be Juventus' squad - Andrea Pirlo, Gianluigi Buffon, Giorgio Chiellini, etc - that will feature most heavily in XIs, but the sudden rise of Stephan El Shaarawy has been impressive, while Edinson Cavani keeps on looking world class for Napoli in Serie A.
In Germany, Mario Gotze and Mats Hummels were axels in Borussia Dortmund's Bundesliga-winning team, while Marco Reus has been excellent since signing in the summer; on the other hand, numerous players in Bayern Munich's team - especially the in-form Franck Ribery - could make it into best-of-2012 XIs.
Elsewhere in Europe, Paris Saint-Germain's all-star squad includes the likes of Zlatan Ibrahimovic who has been fantastic since his transfer from AC Milan; Shakhtar Donetsk's attackers might not be obvious choices but they have excelled repeatedly; and Russian sides such as Anzhi Makhachkala and Zenit St Petersburg continue to build expensively-assembled but star-studded sides.
And across the rest of the globe, Neymar continues to set the Brazilian league alight, while Didier Drogba won the Champions League for Chelsea before trotting over to China in the summer.
Goal.com asked readers what should the best XI of the year is on Twitter, and we had w ell over a thousand responses!
Shaufy Sufyan: Casillas; Zabaleta, Chiellini, Pique, A Cole; Xavi, Ozil, Pirlo; Ronaldo, Messi, Ibrahimovic.
Carlo Garganese: Buffon; Piszczek, Thiago Silva, De Rossi, Ashley Cole; Vidal, Pirlo, Iniesta; Ronaldo, Ibrahimovic, Messi.
DarkDyson: Casillas; Piszczek, Ramos, Kompany (not including this season), A Cole, Yaya Toure, Xavi, Inies ta; Ronaldo, Michu, Messi.
Puneet Lalwani: Cech; Lahm, Ramos, Kompany, A Cole; Iniesta, Yaya Toure, Ozil; Messi, Falcao, Ronaldo.
Enis Koylu: Buffon; Piszczek, Dante, Hummels, Lahm; Khedira, Pirlo; Reus, Messi, Ronaldo, Lewandowski.
Shamoxen: De Gea; Acerbi, Vidic, Chiellini, Kolarov; Sergio, Rosicky, Vidal; El Shaarawy, Rooney, Giroud.
Robin Falken: Hart; Ivanovic, Ramos, Kompany, Alba; Xavi, Alonso,, Iniesta, Ronaldo, Messi, Falcao.
Miles Chambers: Buffon; Lahm, Chiellini, Kompany, A Cole; Xavi, Pirlo; Ben Arfa, Messi, Ribery; Van Persie.
You can still get involved by leaving your best XI of 2012 in the comment section below, or you can share your ideal starting 11 by tweeting to
@goal_intl
with the hashtag TeamoftheYear.